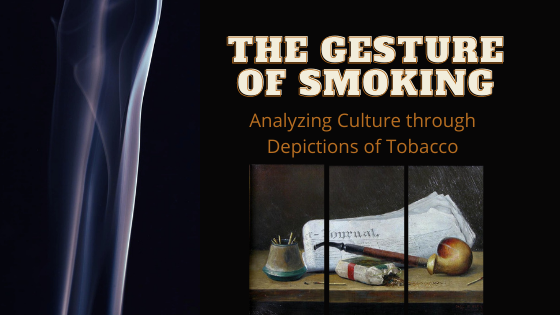 Imagine Mark Twain. Is he smoking a cigar? Imagine Sherlock Holmes. Is he smoking a fantastically shaped pipe? Our popular imagination of the nineteenth century is filled with depictions of smoking. Even Laura Ingalls Wilder's virtuous Pa would ride into town for some tobacco.
I am fascinated by the way the figure of tobacco and smoking works in texts. Does the smoke in the air visualize bonds between smokers or inhibit the smoker's ability to build relationships with others? What does the presentation of smoking say about gender or class? How do we make sure to differentiate the Lakota tradition of the sacred pipe from modern commercialized tobacco, and what do we do with attempts to appropriate a religious view of tobacco (looking at you Edward Vincent Heward!)?
And then there are all the material aspects of smoking from growing, curing, toasting tobacco to the manufacturing of pipes, cigars, and cigarettes, along with the political legacy of colonialism embedded in the tobacco industry. And we haven't even gotten to the health concerns that go all the way back to the early modern period.
Along with all this, a question I care deeply about is how does a depiction of smoking destabilize our own assumptions about the smoking community? I bet smokers don't want to talk to academics because they're worried about being judged or lectured. In the introduction to Rick Newcombe's In Search of Pipe Dreams, Albert Mendez writes about the "ridicule and contempt directed against pipe-smokers by scribblers and demagogues." He then glosses that mockery with this insight: "This isn't surprising when you consider that in the past, pipe smoking attracted mostly sober, respectable, and rational men."
Since so much academic work starts from the point of suspicion, I understand the concern. But some of us believe that those who love someone or something have the best understanding.
"Sober, respectable, and rational." The pipe smoker according to Albert Mendez.
All of this is the inspiration for a class I'm very excited to teach this summer. I'd like to share it with all of you because I have a request.
Here's the plan so far for the course:
Here's where I need help. This is a very short class at only six weeks! We can't read all the things I wish students could read, but I want them to have access to many different texts about smoking and tobacco to draw on for their research.
To help round out the optional reading/watching list, I would like to hear from you what your favorite depictions of smoking are. And, with your permission, I would like to share why these texts are important to you.
If you are interested in sharing, you can with this form:
And I will keep sharing aspects of this class as I develop it further. I'll share all of my lecture videos with you on this blog along with freely available versions of the readings that I can access.
I look forward to reading your favorite depictions!