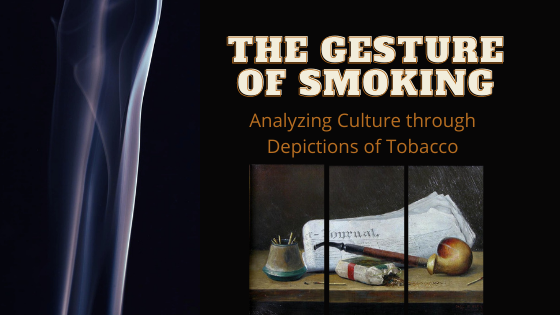 Have you ever asked someone why they smoke? Maybe they'll say it relaxes them, or that they enjoy it, or that they really just like being able to talk with other smokers. It all comes down to some sort of enjoyment. The late media theorist, Vilém Flusser argued that this enjoyment isn't found in the experience of the smoke or in any isolated part of the gesture of smoking, but rather to act out one's own being.
This week, my students in my honors class are exploring depictions of smoking through Flusser's theory of gestures, and I would like to share the readings and lecture with you.
Readings
Poems
Pearson's Weekly Pipe Smoking Contest:
Essay
"Smoking as a Fine Art" by A. A. Milne (Yeah, THAT Milne)
Podcast
To relate contemporary pipe smoking communities to the historic ones they read about, students listen to Country Squire Radio's episode on A. A. Milne.
See more from the podcast below.
Squire Select: Boodles Rhubarb Strawberry Gin
–
Country Squire Radio
We are mixing it up again this week! In the classic style of Squire Select we are pairing a spirit (Boodles Rhubarb Strawberry Gin) with some quality pipe tobacco, but wait, as they say…there's more! We then use that same spirit to create a cocktail and see how it changes the pairing selection. Pipe Question: (from Alex) About Nicotine Content: I always loved aromatics many because My girlfriend and kids love the smell but i've always wanted to smoke something stronger I dabbled into some darker Periques and BURLEYS but found the nicotine kick was too strong Other blends like Old Joe Krantz Old Dark Fired and Irish Flake i heard are very strong too What can i mix with them to lower the nicotine as i want to smoke them I love my Carter Hall Would that tone them down a bit. Quick Fire Questions: You've got 1 magical hour. 1 magical hour to be anywhere in the world with 1 hours worth of music, 1 hours worth of pipe tobacco, 1 beverage and 1 pipe. Listener Feedback: (From Jeremy) Just got a chance to listen to latest episode on Calico Jack. Loved it. Listened to it on my way home from a job site and Friday nights are family movie nights in the Dukes household. The boys chose a Netflix animated movie called The Sea Beast. It's a lot of swashbuckling fun in the vein of Moby Dick, and I couldn't help but think about you and your love for all things pirates. . Not sure what your kids are into but it's worth the watch. Hope all is well!
Lecture
Further Reading and Resources