If we were having coffee, I would excitedly lead you out to the back porch while the French press steeps. Shuffling past the half-packed boxes of books and the growing towers of other books that I feel need more care than cardboard can provide, I would fling open the door and point.
The bonsai has exploded with growth over the last few weeks. Last time we had coffee he only had the leaves leaning over to the right and the ones in the center were budding but not quite open yet.
But it hasn't been all growth and sunlight these past few weeks. The bonsai had one more trial. I noticed a collection of green balls circling one of the stems. It was late, so I didn't have enough light to see what they were. In the light, I could see that he was once again in danger. That's right, I had to save him from spider eggs!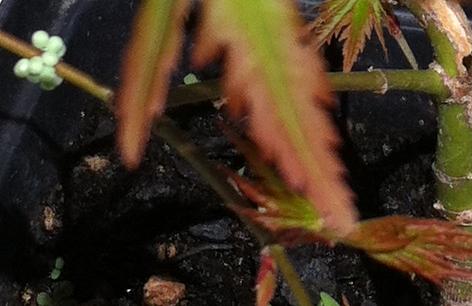 There had been a shady looking spider hanging out with him at night. I, of course, did not approve, but I'm not accustomed to killing spiders when they are outside. Fortunately, I was able to pry those little green seeds of death off before they could do him any harm.
Once the coffee was ready to plunge, I would wonder aloud what the coffee culture would be like in Georgia. There's a Peet's Coffee on campus, but what else is there? Will I have to mix my coffee with coke like O'Connor to get an extra kick? When it comes to beer and coffee or some wondrous mixture of the two, we're spoiled in the Northwest. But maybe we'll find some damn fine coffee in Georgia…
If we were having coffee, I would eventually remember myself and realize I had spent all our time together babbling excitedly about my bonsai. What have you been up to? What's grown in your life? Where have you crushed little green seeds of death?