Above the chair where we'll rock our daughter to sleep, across from the portrait of Br. Monday, and sharing the same wall as overly-earnest child Flannery O'Connor scowling poring over her book is a print of one of Gerard Manley Hopkins's drawings. The sketch, dated July 25th and probably made during the 1860's, depicts a beech tree in the center from the perspective of Appledurcombe house where young Hopkins spent summers on the Isle of Wight. The building in the background is the parish church in Godshill.
When I first saw it, I thought with caught breath that I am seeing what he saw, sharing the same experience of my favorite poet. Now our daughter, Eleanor will grow up with that view. She with her "fresh thoughts," before she ever grieves "over Goldengrove unleaving," will grow up knowing that this poet existed. I didn't know there was such a poet until I came across him in a textbook in my last year of high school. The reading was unassigned, and I found him by chance.
It is a strange thing to think about how her experiences and store of knowledge will be built off of ours.
This mystery of discovery and the gift of one generation to another, makes me think about the time before Hopkins. I don't just mean the time before I knew him, or the time before I will first introduce Eleanor to him, but the time before the world knew him. He was rarely published in his lifetime. Mostly his poems were circulated through correspondence with like-minded friends, like Robert Bridges.
But then, in 1918, his poetry was published by that same friend, the poet laureate. I think this is a fascinating time to look at how the world saw this idiosyncratic Jesuit. Now we tend to use different editions of Hopkins's works since Bridges took liberties in making changes and set The Wreck of the Deutschland like "the dragon in the gate" blocking our way into the poetry.
[archiveorg-book poemsofgerardman030114mbp width=480 height=430]
The Catholic Encyclopedia gives us a window into the reception of Hopkins right before Bridges published his poetry. In 1914, we have this little description by Blanche Mary Kelly:
Jesuit and poet, born at Stratford, near London, 28 July, 1844; died at Dublin, 8 June, 1889.

His early education was received at Cholmondeley School, Highgate, where he gave evidence of fine intellectual endowments, scholarly tastes, and poetical gifts above the ordinary. The numerous conversions from Anglicanism to the Catholic Church in the middle of the nineteenth century together with the spirit of the Oxford Movement were not without their effect on the young student, and in October, 1866, he was received into the Church. In the following year he entered Balliol College, Oxford, having been prepared for his classical course by Walter Pater. Very soon his religious vocation manifested itself and he left the university, going to the Birmingham Oratory, where he spent a short time with Father Newman. In 1868 he entered the Society of Jesus. After ordination he was sent to Liverpool where his work lay among the poor of the slums of that city. His next post was that of preacher in London, after which he was stationed at St. Aloysius' Church, Oxford, where the Baron and Baroness de Paravicini have erected a memorial to him. In 1884 he was elected fellow of the Royal University of Ireland and appointed classical examiner at Dublin, where he died of a contagious fever.

While still at school he had written verses of distinctive merit but in his ardour as a novice he destroyed his poems, a single fragment surviving, and he wrote no more for nearly ten years. The poetry which he subsequently wrote at various periods until the year of his death is of a very high quality. It resembles the poetry of Crashaw in its exuberance of language, its lyric qualities, and its daring metaphors. The poems have never been collected, but many of them have been published in various anthologies such as Beeching's "Lyra Sacra" and Miles' "Poets and Poetry of the Century".
Most of the entry focuses on his education and life as a Jesuit. The final paragraph acknowledges he was a poet, and it sounds like he was a pretty good one, like the Baroque poet Richard Crashaw. But his poems are scattered in "various anthologies" and this entry is mainly a note about a marginal character of the Oxford Movement. Nothing about sprung rhythm yet and "exuberance of language" is fitting but doesn't really tell us much.
Then in March of 1919, the Jesuit periodical, The Month, published a review of the 1918 edition: "Gerard Hopkins: A Recovered Poet." Written by a fellow poet, Louise Imogen Guiney, the review is ecstatic about the work of a certain "Father Hopkins":
. . . Not since Francis Thompson have we had so disturbing, debatable, and compelling a poet. . . Let there be no doubt about the worth of Father Hopkins' literary work. It has winged daring, originality, durable texture, and the priceless excellence of fixing itself in the reader's mind . . . It is abundantly clear, then, that we all owe Dr. Bridges a debt of profound gratitude.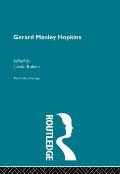 Of course this is not the only review after the 1918 edition. The Times Literary Supplement fittingly published a review. "Fitting" because Hopkins's own father, Manley Hopkins had been published by the Times as a reviewer. Theodore Maynard reviewed Hopkins in Chesterton's The New Witness with "cautious enthusiasm." And there are other early reviews that you can find in Gerald Roberts's Gerard Manley Hopkins: The Critical Heritage.
Though these reviews won't be her start, Eleanor will grow up with some awareness of Father Hopkins. His collection of poems stays on a little shelf on our coffee table, and his portrait is in our dining room. Maybe she'll even catch a glimpse early on, rocking under the same view of a tree he saw every summer.