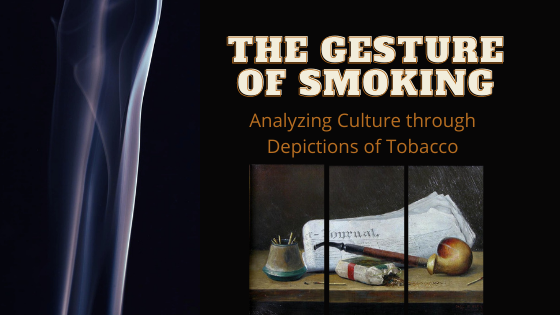 We stylize ourselves through gestures "with respect to the world (work), to others (communication), and to ourselves (ritual)"

– Vilém Flusser
I recently taught my dream class on Victorian depictions of smoking for the honors program at the University of South Dakota. This course draws on my own research presented at the Victorians Institute and make use of digital platforms that support student research.
Course Description
Imagine Mark Twain. Is he smoking a cigar? Imagine Sherlock Holmes. Is he smoking a fantastically shaped pipe? Our popular imagination of the nineteenth century is filled with depictions of tobacco usage. Even Laura Ingalls Wilder's virtuous Pa would ride into town for some tobacco. In this course, we will explore Transatlantic Nineteenth and early Twentieth-Century depictions of smoking in art, commentary, and popular writings. Outside of poetic and narrative depictions, we will read essays by authors like G. K. Chesterton and A. A. Milne along with anti-smoking tracts and political texts. Our guiding question will be, "What cultural work does this depiction of smoking perform?" All throughout, smoking culture will be analyzed as a multifaceted phenomenon that provides examples of ideological communication, colonialism, intersectionality, and economic and material production. In this class, you will also add your own voice to the conversation through researching in digital archives and sharing your insights for a public audience
Major Projects
Collaborative Organization for Virtual Education (COVE) Artifacts: Using COVE (https://editions.covecollective.org/), a "scholar-driven open-access platform" that provides access to digital editions and digital scholarship tools, students will develop digital maps, timelines, and gallery projects that showcase their research in a multimodal way. The creation of these artifacts will introduce students to research with digital editions and low-stakes ways to present that research to a public audience.
Readux Bibliography and Annotation Project: Using Readux (https://readux.io/), an open source, online platform where users can search and annotate digitized materials and publish their findings, students will gather examples from the yellowback (popular novels) archival collection as the basis for claims they will make in their conference paper project. Students will practice annotating archival texts and will export a digital bibliography to showcase their original research.
Conference Paper: As a class, students will simulate a conference by collaboratively deciding on a name, theme, and potential topics. Individually, students will submit an abstract draft, an 8-page "conference" paper, and a video recording of the paper presented according to conference conventions. These recordings will be uploaded to a discussion board so that every student can asynchronously participate in the conference as colleagues.
Digital Storytelling Project: After the conference, students will revise the paper for a non-academic audience by distilling it to the most important point and creating a 3-5-minute digital storytelling video. For deliverables, students will first draft a storyboard so I can intervene in their revision process and then submit the video as a final project.
Learning Objectives
Critical thinking: Throughout the course, popular depictions of smoking will be presented as examples of cultural production. Students will analyze and compare different depictions from various stances on smoking. To better understand the context of Victorian smoking culture, students will add insights from their own archival research to the canonical and anthologized texts in the reading list. An important feature of critical thinking in literary and historical research is the realization that past generations are often more ideologically diverse than we assume.
Effective Communication: Students will be trained as emerging public scholars in this course. They will be encouraged to find their voice in the debates of literary and cultural criticism and explain their insights for both academic and general audiences. Working with the same argument through a conference paper and a digital storytelling project, students will work through different rhetorical situations and reflect on their writing decisions.
Problem Solving: Students will need to engage in problem-solving during their research and while using digital tools to showcase their findings. They will have the task (with support) to create a research plan for working in the archive (Readux), implement that plan, and then offer their insights to different audiences. There are thousands of yellowback novels available in the Readux archive, so students will need to decide what information is salient for their research question.
Research Skills: Students will be coached how to use digital tools in their research and how to utilize digital archives. They will draft a research question and plan for using the digital archives available through Readux. Following their research, they will compose and present a conference paper asynchronously for their classmates. To ensure that they engage in metacognition and learning for transfer, students will reflect on their research decisions.
Syllabus
Weekly Lectures
Welcome to the Course
Gestures and Smoking Communities
Critique and Colonialism
Textual Analysis Project
Ethics and Aesthetics
Love and Interpretation
Sharing Your Research
Becoming a Public Scholar